Don't settle for spectating
Electric was the future, but now the future is here. Let us
help you charge ahead with it.
All electric. All-around reliability.
It's no secret that the world is shifting. With a greater eye toward the future, the transportation industry is rapidly accelerating efforts to zero-emissions options. From single vehicles to entire fleets, we're simplifying the process of transitioning to electric vehicles. And with the backing of a comprehensive charging ecosystem, our advanced infrastructure and expertise will guide you across the finish line with ease.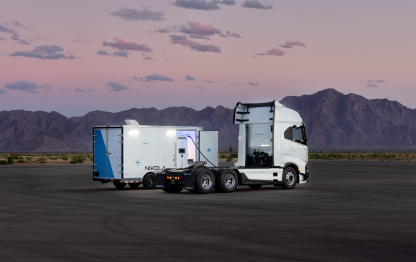 MCT Mobile Charging Trailer
Focus on your next job, not your next charge.
Get on the fast track to zero-emissions with the simple-to-implement MCT. While others wait for permits and infrastructure, you can say goodbye to delays and focus on operating and expanding your EV fleet without significant capital expenses. Built on a versatile 16-foot trailer platform, our MCT offers mobility and flexibility, and provides on-the-go charging support at fleet depot locations or even in austere environments, making this the ideal charging system, for what you need when you need it.
| | |
| --- | --- |
| CAPACITY: | 175 kW |
| CONNECTOR TYPE: | CCS Type 1 |
| CABLE LENGTH: | 17' (14' reach) |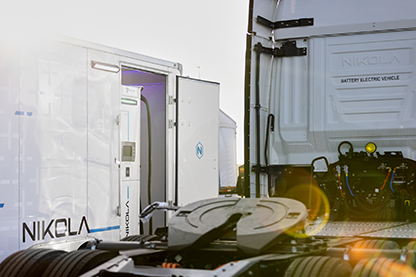 Quick. Flexible. Portable.
With a hassle-free installation process, the eSKID surpasses the need for special permits or construction, reducing the time required to establish EV charging infrastructure. This allows for immediate vehicle charging. And the eSKID's flexibility enables simultaneous charging of two trucks with a divided 62.5 kW output or 125 kW for a single charger. With the absence of permanent concrete pads, relocation of the eSKID is simple, allowing greater flexibility as your business continues to grow, move, or evolve.
| | |
| --- | --- |
| POWER: | up to 125 kW |
| CONNECTOR TYPE: | CCS Type 1 |
| CABLE LENGTH: | 14'7'' |
DO YOU SUPPLY SOLUTIONS FOR CHARGING THE TRUCKS?
Yes. Ziegler Truck Group builds on our company's long history of designing, installing and maintaining alternative power systems to create a solution for your unique needs. We have a suite of comprehensive solutions that range from mobile charging to permanent infrastructure, including an operational assessment and energy optimization. We will work with you to provide the best solution.
HOW DO I RECHARGE THE BATTERY IN YOUR ELECTRIC TRUCKS?
The truck is charged through a Non-Proprietary CCS type 1 connector and a charging station.
DO YOU HAVE AN INFRASTRUCTURE SOLUTION FOR FLEETS THAT DO NOT OWN THE LAND WHERE THE TRUCKS ARE DOMICILED? (CUSTOMER LOCATION/LEASED LOT)
Yes. Nikola has developed the Mobile Charging Trailer (MCT) for the Tre BEV. This flexible solution can be leveraged as a bridge until a permanent solution can be found, a backup for events when you need to move away from your permanent infrastructure (natural disasters) or when power is not available (blackouts/brownouts)
Let us know how else we might assist you.
From pricing to fleet questions to anything else you can throw at us, we're available